On Wednesday 2nd February, a cube, composed of 186 kilograms of pure 24-karat gold, was installed in Central Park to the fanfare of photographers and the watchful eyes of NYPD officers.
The hollow gold block is the creation of 43-year-old German artist Niclas Castello, who has branded it the "Castello Cube". Bystanders weren't sure what to make of it, but one thing was clear, this was a brilliant publicity stunt to launch a new cryptocurrency called the Castello Coin. With gold currently priced at $1,788 (approx.) per ounce, the cube could be worth up to $11.7millon.
The cube had been advertised as a once-in-a-lifetime work and one observer admitted that the "reflections are incredible, and that "putting it there in the snow seems really inspired." Castello said that the cube is "a conceptual work of art in all its facets" and that he'd wanted to "create something that is beyond our world—that is intangible."
The cube was made in a foundry in Aarau, Switzerland using a special handmade kiln, due to the sheer size and volume of the gold used. For all the gold to be melted, the kiln needed to reach over 1,100 degrees Celsius. It was then cast into a cube measuring more than 30 centimetres with a wall thickness of just over half a centimetre.
German artist Niclas Castello with his pure gold artwork. Image Credit: AFP
"I appreciate this. The cube is innovative, attention-grabbing and fun. And above all puts the spotlight on gold. Art might be intangible, but physical gold certainly isn't, " commented Rael Demby.
Castello's Cube stayed in Central Park for only a few hours before being moved to an exclusive venue on Wall Street for a private dinner. It is unclear where Castello's Cube will land up next.
Whatever you feel about this type of art, Castello's Cube certainly added some pizzaz to a cold and snowy day in New York.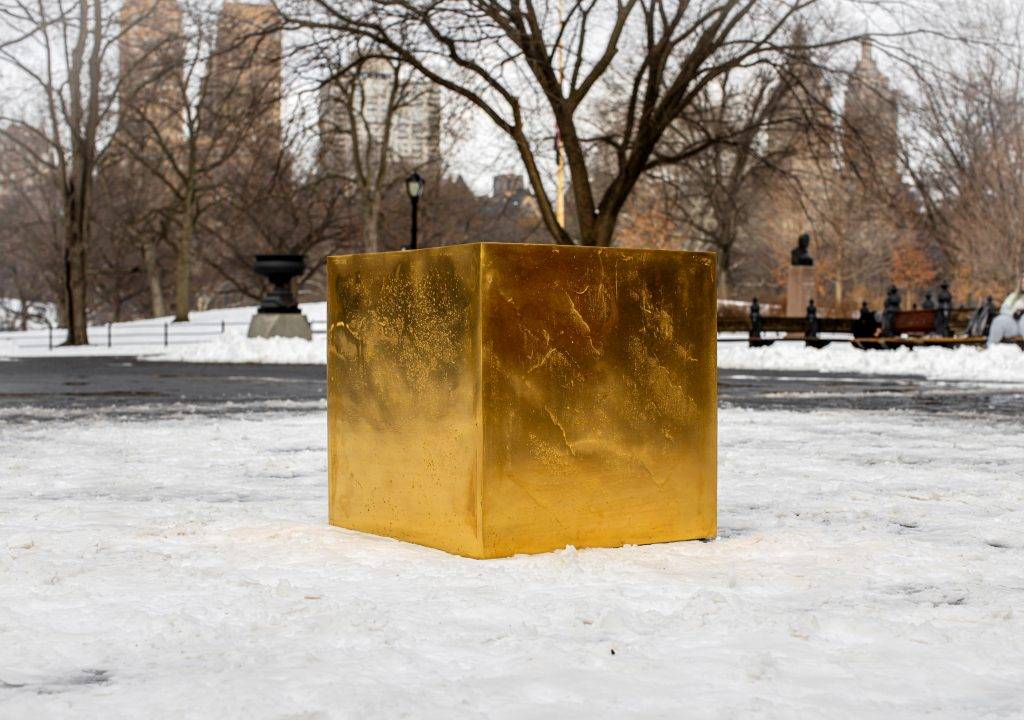 Niclas Castello's The Castello Cube, made entirely from 24-carat, 999.9 gold and weighing 410 pounds, was installed in Central Park, New York for one day only, Wednesday, February 2, 2022. Image credit: Sandra Mika