Gold Coins vs Cryptocurrency - what you need to know
Gold coins and collectables, and cryptocurrency are going head to head. Many market observers compare gold and bitcoin, but there are significant differences. We spoke to Jonathan Ovadia, Co-Founder and CEO of Ovex, and Rael Demby, CEO of The South African Gold Coin Exchange ( SAGCE) & The Scoin Shop, to compare and contrast the two. OVEX is South Africa's largest cryptocurrency prime brokerage, offering institutional services, such as high volume trading, custody, lending and borrowing in the cryptocurrency market. SAGCE has over 40 years of experience backed up by 13 branches of The Scoin Shop and an online shop www.scoinshop.com.

First up, Gold has been used as a form of currency for more than 2,000 years. On the other hand, Bitcoin has been in existence since the first block was mined in January 2009. Another critical difference between the two is asset classification. Gold coins and collectables are historically proven, are more stable and are categorised as tangible assets. Classifying cryptocurrency has proven a bit more elusive. Market experts make the case that crypto belongs to its own asset class, pointing to several variables such as the low correlation between cryptocurrency and other asset classes. Similarities suggest the speculative nature of both. Unlike shares and bonds, they are not based on factors like earnings.
Interestingly, Ovadia tells us, "you can earn interest from cryptocurrency, and there are other clear benefits such as the ability to store value over time and be held, giving a sense of security during certain times." As for what drives price movements, the answer is complicated, and not everyone agrees. For example, gold has acted as a safe-haven asset in many cases but risen alongside riskier assets at other times.
Gold coins and collectables are safe-haven assets. Gold occupies the top spot in the ranking of haven assets, including property, diamonds, and fine art. Cryptocurrency is highly speculative, and the market is mostly unregulated, raising doubts about whether digital currency does indeed offer investors safety during times of macroeconomic turmoil. Demby says, "gold coins withstand periods of crisis, fluctuation and inflation, and are tangible. So genuine physical insurance". More recently, cryptocurrency has become something that investors have turned to in times of distress. Jonathan Ovadia adds, " I believe cryptocurrency is positioned to be a safe-haven asset, depending on the market dynamics at play." Demby voices that " cryptocurrency is an uncorrelated risk asset, which is important to distinguish from a safe-haven asset".
"Cryptocurrency is an uncorrelated risk asset, which is important to distinguish from a safe-haven asset"."

So use your crypto to buy physical gold coins and collectables. That's an exciting strategy which The Scoin Shop is pioneering.

One of the most striking differences between gold coins and cryptocurrency is that while the precious metal represents a physical object, cryptocurrency is entirely digital. Demby explains that "gold coins are a physical commodity. They are tangible. You can feel the weight of a coin. That's very reassuring to clients." Cryptocurrency is a digital creation, a convertible virtual currency. That said, the nature of crypto has not been deterring investors. The pandemic has been a significant accelerant, with individual and institutional buyers fuelling demand.

Many of cryptocurrencies early adopters are now billionaires, among the wealthiest people globally, and with the recent bull run, other investors have made massive profits. So what to do with your earnings and how to diversify your portfolio. Demby tells us that The Scoin Shop now accepts specific cryptocurrencies (BitCoin, Ethereum, USD Coin, Litecoin, Dai, Bitcoin Cash) as payment for gold coins and collectables. So you can cash-out your crypto profits and buy gold—anything from Gold Bullion and Proof Krugerrands, rare ZAR Gold Coins to Modern Numismatic gold collectable coins. Demby advocates a diverse portfolio of different assets such as cash, property, shares, gold coins, and collectables. His recommendation is 10-15% in gold coins and collectables. Ovadia has a more aggressive view saying 10% to 20%in Bitcoin and cryptocurrency would be conservative. But cautions that the risks are very high with this strategy.
The cryptocurrency ecosystem is growing rapidly. More brands and companies are moving into the space of accepting crypto for goods and services - setting up payment systems that enable Bitcoin transactions. Ovadia believes that The Scoin Shop's innovation is a bold move and shows an open view to a new and rapidly growing asset class. According to him, "It's better to embrace it than ignore it."
So use your crypto to buy physical gold coins and collectables. That's an exciting strategy which The Scoin Shop is pioneering. Demby tells us that since The Scoin Shop introduced this payment innovation in late 2020, he has seen strong demand for the option of " coins for coins" and expects this trend to continue going forward. Ovadia says, " as far as I know, there are no other major gold coin companies integrating cryptocurrency. Eventually, every single one will."
Security of any investment is paramount, and physical gold bullion and numismatic collections should be stored in a secure vault offering premium safe custody. SAGCE &The Scoin Shop offer a premium safe custody option called SafeGold, an affordable, secure storage facility. As a convertible virtual currency, Cryptocurrency also needs to be secured. Ovadia busts the myth around the storage of cryptocurrency, saying, "it is as easy as storing a gold coin, cryptocurrency wallets can be reduced to a series of 24 words, stored on what's called a crypto steel and stored in a safety deposit box just like a gold coin." This system is attractive to a person looking for a bearer asset they can hold and store themselves. There are custody solutions for high net worth individuals and institutions, or even an interest account where clients can earn interest on tier crypto holdings.
Buyers can benefit significantly from thorough due diligence before purchasing or speculating on either gold coins or cryptocurrencies. Plus, they should keep in mind that risk is inherent to investment, so they shouldn't invest any money they cannot afford to lose.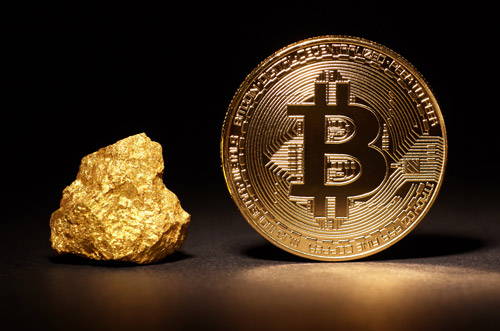 Browse our 4 Shopping Categories