Paris, Europe's Cultural and Sporting Epicentre
Paris, the alluring capital of France, has long served as a historical platform for momentous events and gatherings. From global political meetings to art exhibits, sports competitions, and epoch-defining celebrations, Paris has continually been at the centre of it all. Here's a look at a few key events hosted by this illustrious city in the 20th and 21st century.
With its timeless charm and vibrant culture, has been the cradle of countless influential events in the past two centuries. From the roar of sporting arenas to the gentle murmur in art galleries, Paris has hosted an array of pivotal cultural and sporting events that have captivated audiences worldwide.

Tour de France -1903 onwards: This world-renowned cycling event, inaugurated in 1903, holds its finale in Paris every year, turning the iconic Champs-Élysées into a high-speed velodrome. Its century-long tradition has transformed it into one of the most prestigious and challenging cycling races globally.
FIFA World Cup -1938 & 1998: France has twice had the honour of hosting the FIFA World Cup, with Paris serving as the epicentre of the electrifying football drama. The 1998 World Cup was particularly memorable when the French team lifted the trophy on home soil at Stade de France in Saint-Denis, a suburb of Paris, sparking nationwide celebration.
Roland Garros -1928 onwards: Known as the French Open internationally, this grand slam tennis tournament has been held annually at the Stade Roland-Garros since 1928. It is globally recognised as one of the most prestigious events in tennis and is renowned for its challenging clay surface.
Cannes Film Festival -1946 onwards: Although not held in Paris, the Cannes Film Festival, held on the French Riviera, is a key cultural event in the French calendar. The festival has become an international symbol of cinematic artistry, with film directors and stars flocking to the red carpet annually.
Fête de la Musique -1982 onwards: Initiated in Paris in the 1980s, this music festival has turned into a worldwide phenomenon. Held on the summer solstice, the streets of Paris come alive with music from professional and amateur musicians, celebrating the universal language of melody and rhythm.
Nuit Blanche -2002 onwards: An annual all-night arts festival, Nuit Blanche transforms Paris's cityscape into an immense art installation. Since its inception in 2002, the event has spread globally, but Paris's rendition remains the most iconic.
Paris Fashion Week -1973 onwards: As one of the 'Big Four' cities of fashion, Paris's biannual Fashion Week has been a stage for designers to present their latest collections, dictating global fashion trends. The first recognised Paris Fashion Week was held in 1973, although the city has been a fashion hub for much longer.
2024 Summer Olympics: Although still a year away, the 2024 Summer Olympics are set to mark another significant chapter in Paris's sporting history. After hosting the games in 1900 and 1924, the city will become the second to host the Summer Olympics three times, following London.
Paris's stature as a cultural and sporting capital of the world is etched into the city's very fabric. Each of these events has not only enriched the cultural heritage of Paris but also provided a platform for showcasing talent, fostering international cooperation, and promoting universal values. This makes Paris not only a beacon of history but a symbol of the ongoing global dialogue in sports and culture.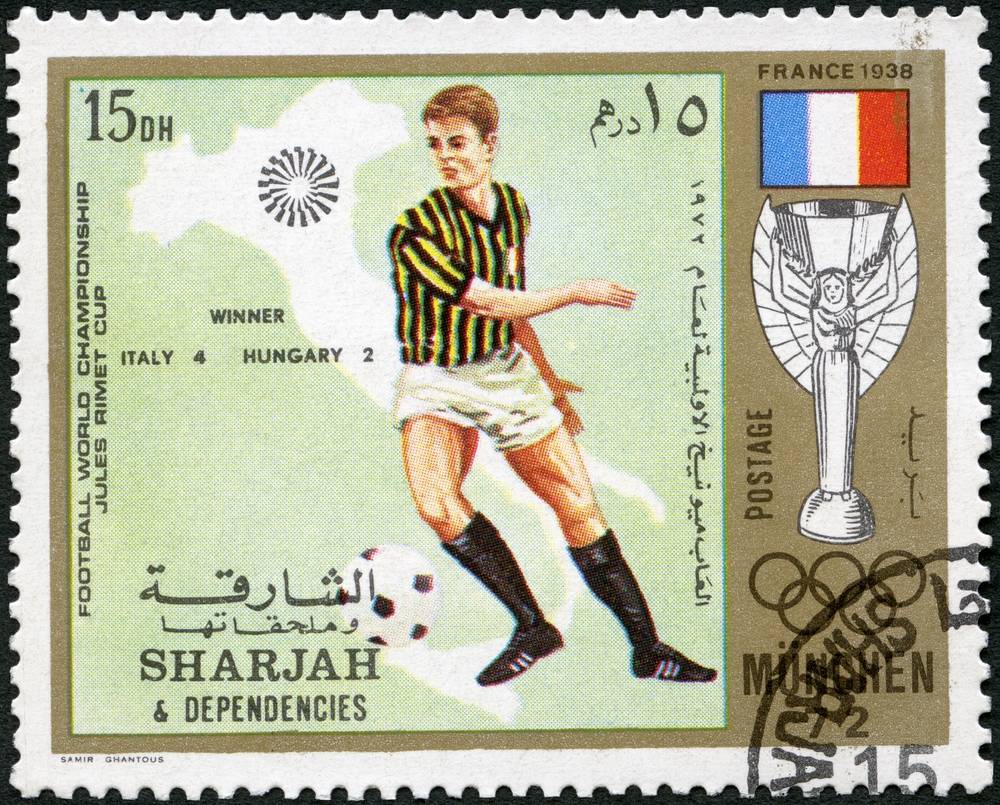 Stamp highlighting the Italian win during the Football World Cup in France 1938