The South African Gold Coin Exchange & The Scoin Shop are excited to launch our latest collaboration. We've got together with the team at The Pro Shop and put together our fantastic Swing into Spring promotion, perfect for coin enthusiasts and golfers alike.
You know we are passionate coin and medallion collectors, and we know many of our clients find these fascinating and fun. But collecting is for everyone, whatever the category. We love collecting and collectors so much we even have our own podcast called COLLECTOMANIA on CliffCentral.com. Swing into Spring got us thinking about golf and collections of golf memorabilia. Barry Cohen, obsessed with South African golf history and an enthusiastic collector of golfing history, shared his golfing journey from club player to published golf historian and a major player in an upcoming movie about Papwa Sewgolum.
To preserve the history of the local game, in 2010, Barry and his team created the South African Hall of Fame Golf Museum. ( originally at the V&A Waterfront in Cape Town. but now in storage due to lack of corporate sponsorship.) Many items from private collections were acquired, and iconic South African golfers were asked to contribute various forms of memorabilia. Historic trophies, such as Harold Henning's Canada Cup, Sally Little's bag, golf clubs and trophies, to Vincent Tshabalala's driver.
Barry and his associates sourced memorabilia and equipment to preserve and document our country's golf legacy. However, South Africa's rich and colourful golfing heritage goes beyond memorabilia; there is also a lot of undocumented history.
Barry says, "What became apparent was that there were few records concerning Black golf, and I set about researching. For months I scoured through newspapers and magazine articles as nothing had been written. It was simply imperative to collect these stories before they were lost."
Barry's work resulted in his first book 'Blazing the Trail', which is about the history and stories of Black golf, followed by 'Let me Play', the Papwa Sewgolum story which will be made into a major film entitled 'Papwa' by Chaos, a Canadian Film Production Company based in Calgary.
Although Barry doesn't get out on the course much these days, his home club is Clovelly CC, where he plays off a 7 handicap. We asked him some golfing questions:
What are your top 3 courses in RSA to play?
Clovelly and Plettenberg Bay. Both are aesthetically beautiful, always in good condition, especially the greens, and not too long for us older guys. The last one, Fancourt The Links, a true test of your ability in proper links setting where accuracy and a short game is a must
If you could play any course in the world - what would that be and why?
David Graham designed Midge Point on the Australian Great Barrier Reef, Whitsundays between Airlie Beach and Mackay. Several holes run along the reef, with yachts sailing past. A true exciting test of golf in a magnificent setting.
Who are your golfing heroes, and why?
Bobby Locke and Ismail Chowglay. Both were my mentors growing up. They shared their golfing secrets with all, and took youngsters under their wings and had fun with everyone despite their fame. Of course, they were brilliant players with amazing short games, and by watching them, you were seduced into playing the game.
In your opinion, what has been the greatest change to the game in the last 25 years?
Distance off the tee. Clubs are manufactured for those with fast swings and the power game, which has overtaken the finesse of the Locke – Player era. Sadly most players as they age do not have fast swings.
where friends are made for life and teaches you to cope with adversity, honesty, and determination.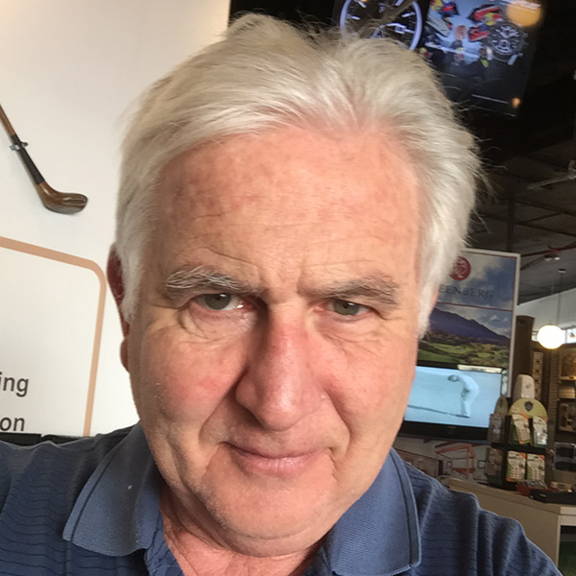 Barry Cohen, obsessed with South African golf history and an enthusiastic collector of golfing history