With over 45 years in the industry, traditional retail shops, an eCommerce site and pioneering cryptocurrency payment systems, we are always chasing innovation and looking to reshape the industry. Once again, as the South African market leader in gold coin trading, we are embracing new technologies and have signed a distribution agreement with Troygold, a Stellenbosch based fintech startup.
Troygold was founded in 2018 by brothers Bastiat and Dane Viljoen. The pair have experience in the investment banking and gold mining industries. Troygold is a young, innovative team of passionate people who believe forward-thinking is the way to a future. Troygold's mission is to allow gold owners to do more with their gold – accessing financial services on their gold holdings.
Troygold simply gives people a choice. A choice to be free from the inflation inherent in paper currencies, Troygold is building financial tools for gold and gold owners – currently allowing customers to save and spend in gold.
"We have always been traditional gold bugs, but we are constantly evolving to find a future that redefines gold ownership. Troygold digitises physical gold, physical bullion and Krugerrands via Troygold's Fractional Ownership Technology (FOT). This home-grown technology developed by Troygold aligns with our belief that gold is for everyone."
Having studied in NYC during the 2008 Global Financial Crisis, the Viljoen brothers saw first-hand the damaging effects of ultra-loose monetary policies and the highly leveraged, debt-based financial system. They wanted to introduce an alternative, in gold. Dane explains, "Being exposed to gold in both the banking and mining sectors provided us with a view of the gold value chain and the hassles a gold owner faces. We saw a gap for a technology-led solution that would extend financial services to physical gold owners. In short, storing your wealth in a stable, non-inflationary money like gold, whilst enjoying the same financial products that those with paper currency have access to."
Via an App and Play Store supported Troygold mobile app, a customer opens a Troygold account which offers a gold savings wallet that digitises the customer's gold - bought or uploaded onto the platform and a linked Mastercard debit card (issued by sponsoring bank Access Bank) that enables spending of the gold's ZAR value at any Mastercard accepting stores. The gold savings wallet is linked to specific, numbered gold Krugerrands and bars in a vault. Each owner receives an ownership certificate that indicates which bar or coin (with indicated serial number) the customer owns, along with details as to where it is stored. Troygold currently has storage facilities in Singapore and Johannesburg, where the physical bullion bars or coins of gold are securely stored and fully insured in the world's safest vaults.
Bastiat Viljoen, CEO of Troygold, explains that the ongoing volatility of the global financial system and the deteriorating value of fiat currency makes a strong argument for a return to gold-backed stores of value.
"Gold has a six thousand year track record as a safe store of value and is the only money that carries no counterparty risk. In a volatile world, gold offers a safe haven asset that always maintains value. However, most gold sits in the dark in vaults and safety deposit boxes, and we wanted to 'light up' that gold with utility and turn it into something gold owners can use for day-to-day transactions and finance."
This collaboration creates a store network of physical on-ramps into the digital Troygold platform. South African customers can upload or withdraw gold Krugerrands into and from the Troygold platform, directly from The Scoin Shops' physical retail outlets.
"The distribution agreement with The South African Gold Coin Exchange & The Scoin Shop means we can scale our solution to reach more South African gold owners through the safe and trusted environment of a Scoin store", adds Dane.
Enabling a broader market to save and transact in fractions of gold is particularly appealing, especially since gold is a finite resource that has stood the test of time and is free from the uncertainty and volatility of fiat currency and cryptocurrency. Does this mean debt-based paper systems and the era of unbacked fiat currencies is nearing an end? The brothers Viljoen and Demby are instead looking at a future where those looking to enjoy the financial security of gold, whilst transacting in a digital financial world, can now do so... bringing gold out of the dark and lighting it up.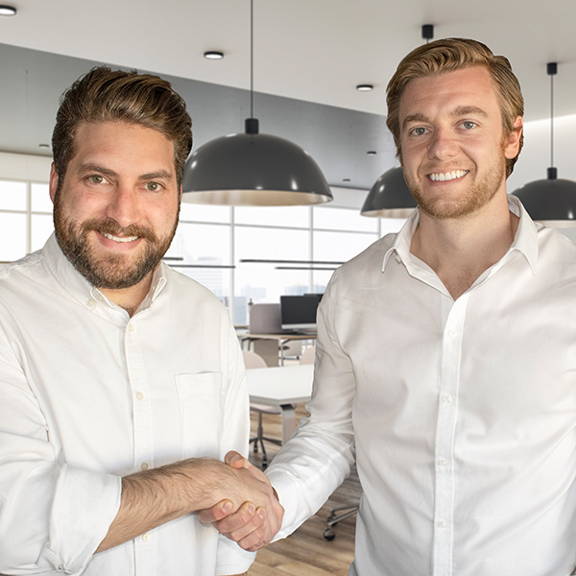 Rael Demby, CEO The South African Gold Coin Exchange & The Scoin Shop and Dane Viljoen, Co-Founder and Chief Sales Officer Troygold