The New Frontier for Gold Ownership
Scoin and Troygold are collaborating to bring Scoin clients the latest in gold technology! By working together, we aim to revolutionise what gold owners can do with their gold holdings.
Troygold is a gold fintech company specialising in digitising physical gold, in order to provide financial services to physical gold owners. Troygold is your physical gold account, gold-backed
loan facility and Mastercard.
Store your wealth in real gold, and Access cash liquidity anytime without selling your gold
A Troygold account consists of a gold savings wallet - which reflects ownership in physical gold Krugerrands that are securely vaulted and fully insured - as well as a currency wallet, which represents a bank cheque account and debit Mastercard linked to a loan facility for instant liquidity on gold.
The account allows a Krugerrand owner to effortlessly save in, spend, and borrow against, their physical gold holdings – hedging your income and wealth against inflation and economic risks.
Immediate, direct ownership of physical gold with an ownership certificate.
FULL OR FRACTIONAL OWNERSHIP
Fractional ownership technology allows buying gold at any currency amount.
Buy at the lowest competitive prices and get more when you sell.
GOLD-BACKED LOAN FACILITY
Access a loan facility of 65% of the value of your gold holdings in minutes.
Leading interest rates starting at 1.25% per month.
Upload gold held at home and get access to a loan facility.
Trusted by thousands of users and gold owners
Industry-leading real-time customer support
First gold monetisation and payments platform globally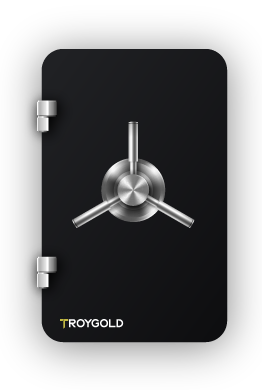 24/7 REAL GOLD BUY & SELL
Buy and sell real gold Krugerrands

Fractional or full ownership (1oz)

24/7 liquidity and dealing service
SIMPLE, RELIABLE AND SAFE
Gold ownership certificate allocated to specifically numbered Krugerrands

Free vault storage and insurance

Withdraw gold or sell anytime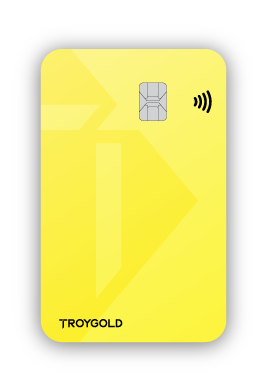 ACCESS CASH INSTANTLY AND CHEAPLY
Loan facility for instant cash liquidity

Loan secured by your gold holdings as collateral

Up to 65% credit to gold holdings value ratio

Monthly repayments from 1.25% monthly interest rate
BANK CHEQUE ACCOUNT INCLUDED
First gold monetisation and payments platform globally

Sponsoring bank: Access Bank SA

Spend globally at 40+ million locations

No monthly bank account fee
Free Storage & Insurance on your Gold
Your gold is safely stored and insured by Troygold's premium safe custody partner, SafeGold – a division of the South Africa Gold Coin Exchange.
How to Get Started in 3 Simple Steps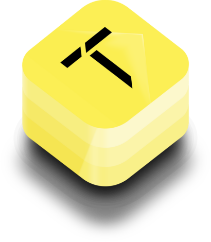 Download the Troygold app on your mobile phone at the respective Apple App or
Google Play stores.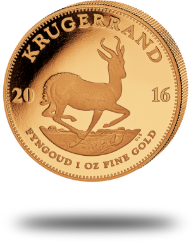 Upload existing gold coins held at home onto the Troygold platform by delivering it to your nearest Scoin Shop – tap Transact, then Upload in the Troygold app.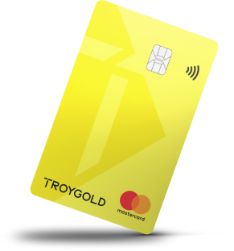 Access Loan Facility & Get Card
Access instant cash liquidity with a low interest rate loan facility against your uploaded gold & have your facility-linked Mastercard delivered to your door.