The Monnaie de Paris dedicates an entire series to the extraordinary works of art that are either exhibited or created in France.
The Guernica, made in 1937 in Picasso's Parisian workshop, portrays the horror of the bombing of the Basque city on April 26, 1937, by the German and Italian aviation.
Depicted in this artwork is also a bull, which appears in many of Picasso's pieces. Currently, this piece is showcased in the Art Centre Reina Sofia Museum of Madrid in Spain.
This artwork, gigantic in size at 349.3cm x 776.6cm has been chosen as one of the Museums Masterpieces series by the Monnaie de Paris. This work of art features in full on the coin as is staged in the workshop of 7, rue des Grands-Augustins, in Paris.
This commemorative coin celebrates one of Picasso's most famous masterpieces. This oil painting of an impressive size is fully showcased on the coin. Depicted on the obverse side is the title of the painting Guernica as well as Picasso's name on the wood beam which supports the roof of the workshop. The inscriptions "CHES D'ŒUVRE DES MUSÉES" is visible on the top left side of the coins design.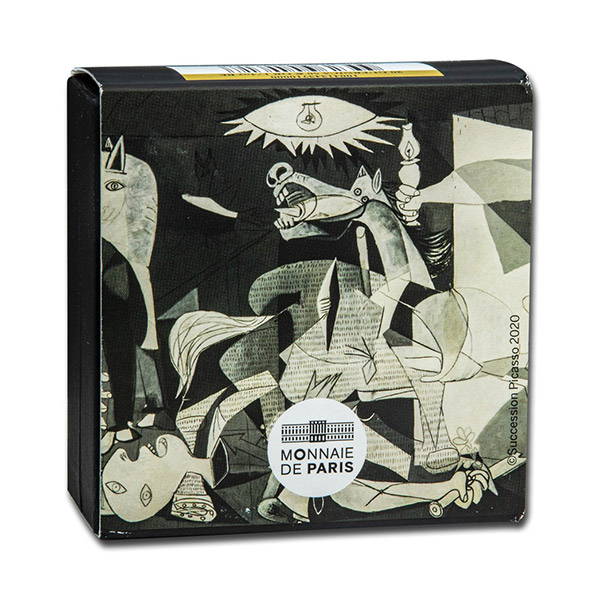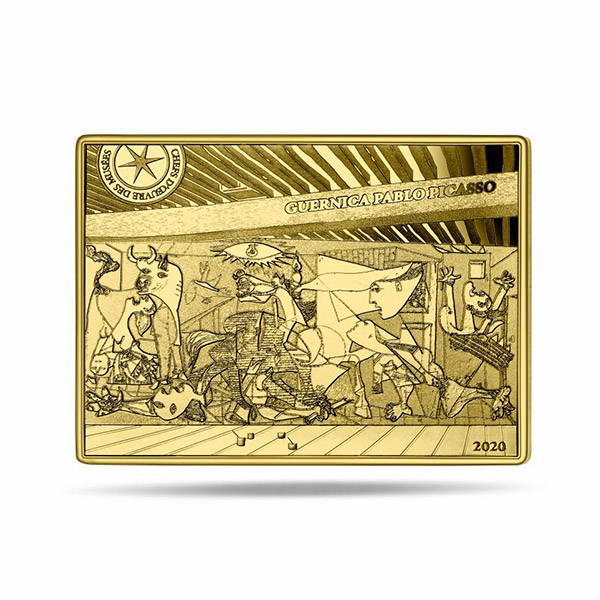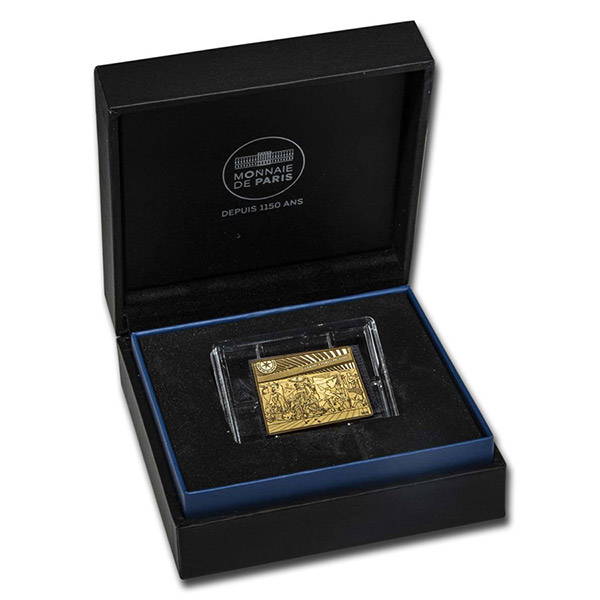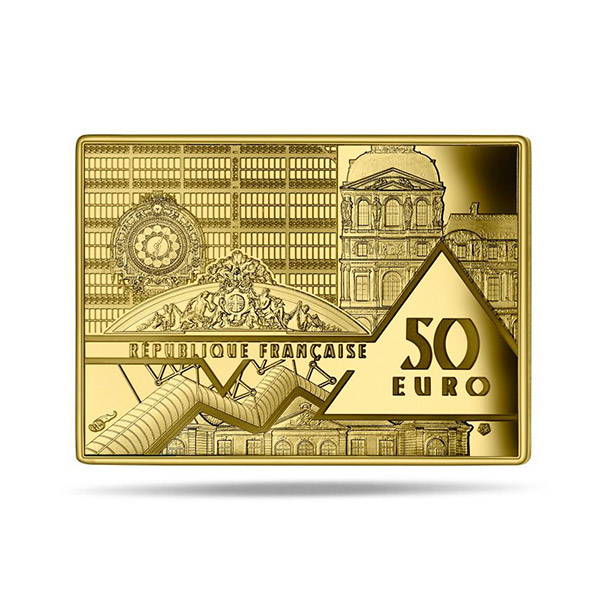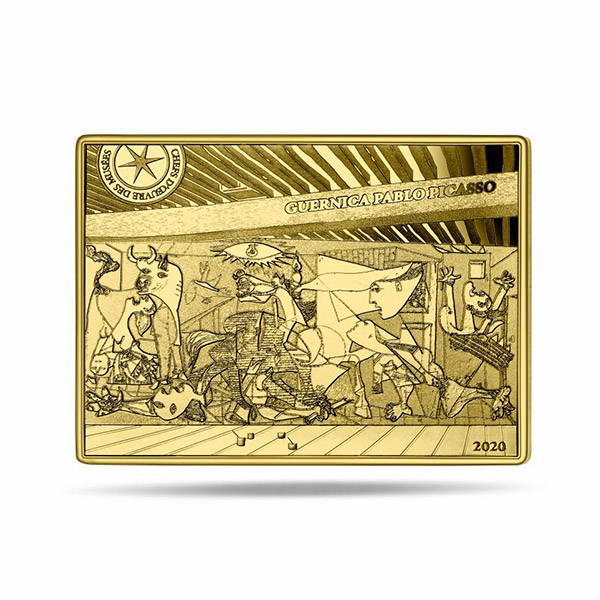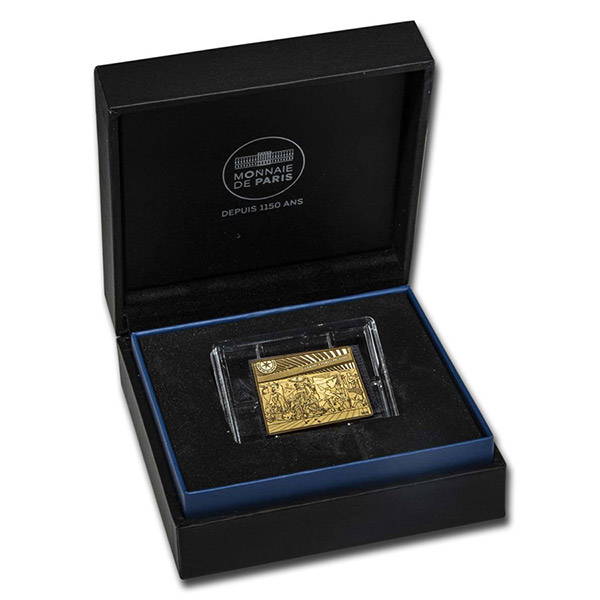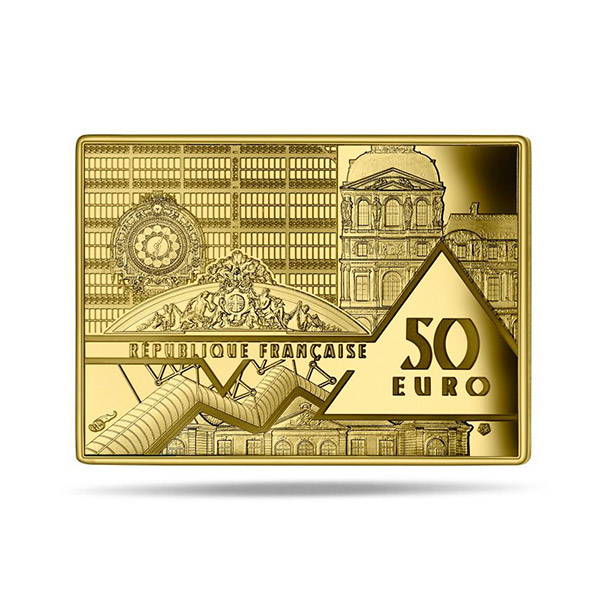 The reverse of the coin is common to the entire series, and depicts views from a variety of French museums. Located just a few meters from Monnaie de Paris, the majestic Guernica was painted in Picasso's studio that was a large attic with a sloping ceiling, boasting huge windows that welcomed natural light for Picasso to paint in.
Also in the Masterpieces of Museums collection is the Van Gogh Self Portrait 1/4oz gold proof and Hokusai's The Wave 1/4oz gold proof coin.
This artwork is gigantic in size at 349.3cm x 776.6cm
Specifications - The Guernica - Picasso - 1/2oz Gold Proof Coin
Quarter-Ounce Gold Proof Coin
Denomination
Maximum Coin Mintage
Alloy
Weight
Diameter
Quality
Year
€50
1500
999.9
7.780g
22.000mm
Proof
2020