This week Her Majesty The Queen is celebrating her 95th birthday. To mark this historic event and personal achievement for The Queen, we shine the spotlight on her image. The effigy of Queen Elizabeth appears on stamps, banknotes and coins issued by Great Britain, and you will also spot her likeness on the obverse of coins issued by the 16 nations of the Commonwealth that recognise her as head of state. Since her coronation in 1952, five different portraits of the Her Majesty The Queen have been used on everything from everyday pocket change to special commemorative coins.
The Royal Mint has struck every official United Kingdom coin of Her Majesty's reign.
Boasting a 1,100-year-history, The Royal Mint was originally housed in the Tower of London before moving to Llantrisant, in South Wales, 50 years ago. Heritage and expertise continue at these new headquarters, where almost five billion coins a year are produced.
We are the only South African company to be chosen as an official partner to The Royal Mint. This privilege means we have exclusive access to the world's largest export mint, a world leader in design and craftsmanship.
Rael Demby, CEO of The South African Gold Coin Exchange and The Scoin Shop, says,
"Our relationship with the Royal Mint further endorses us as the expert in gold coins, collectables and modern numismatics. No one else in the country has an exclusive relationship with The Royal Mint and their talented team of designers, engineers and master craftspeople."
This unique relationship allows us to bring new and exciting modern numismatics to South Africa. Keen collectors have been able to pursue their passion and build on their hobby. For example, in 2020, we launched the Music Legends collectable coin sets, including Gold Proof Coins of Queen, Elton John, and David Bowie.
Demby adds,
"We are committed to collectors. The Royal Mint creates one of a kind pieces made using a combination of traditional skills and innovative technology."
Hot the heels of the Music Legends set is the latest gold collectable secured by us from The Royal Mint. The 2021 UK £5 Gold Proof Coin celebrating the 150th anniversary of the Royal Albert Hall.
"We are excited about this new release. The Royal Albert Hall is known as one of the prestigious concert venues in the world, and now fans and collectors can enjoy the outstanding artistry and skill of the Royal Mint, including, of course, the image of QE11 on the obverse".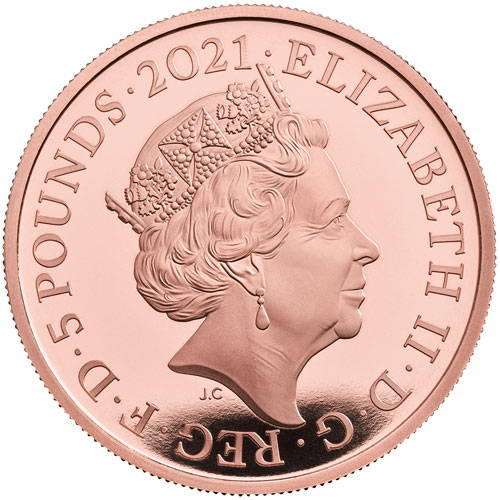 This week Her Majesty The Queen is celebrating her 95th birthday.