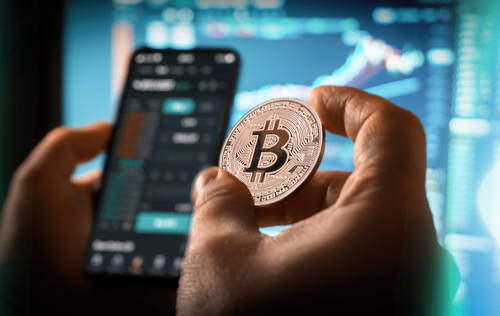 Bitcoin's meteoric rise & fall: A testament to innovation but also a reminder of volatility.
Need more information? Book a meeting with one of friendly experts!
Today, we ask, "is 'the crypto-hype' over?"
By David Macmillan
Although Bitcoin (BTC) has seen gains in recent days, it still remains 50% lower than its all-time highs in November 2021. After a major crash in the crypto industry, entrepreneurs and venture capitalists have moved on to generative Artificial Intelligence (AI) tools, such as those that power ChatGPT. An innocuous statement on the surface but having severe consequences with several startups based around the cryptocurrency and blockchain have filed for bankruptcy, and the deeper you dig, the worse the outlook remains.
Many have lost their personal savings and many, taken advantage of, with the only "gold rush" auspiced by those who speculated early, not to mention the incredible environmental impact data mining has had. Furthermore, considering that cryptocurrencies are primarily unregulated/decentralised, conventional banking/monetary systems can do little to afford any of their consumers any protection against such eventualities, not to mention NFTs.
Several crypto companies filed for bankruptcy, and many retail investors lost their life savings, with investors of color being hit particularly hard. The collapse led many local leaders to abandon their earlier "gold-rush" efforts, while regulators and other officials stepped in and have shifted the focus to protecting consumers.
In short, overall commercial and entrepreneurial activity requiring crypto and blockchain skills (a measure of overall hiring and employment activity) as well as the number of crypto and blockchain startups, has undergone a tumultuous four years with impacts felt across multiple, seemingly, unrelated industries.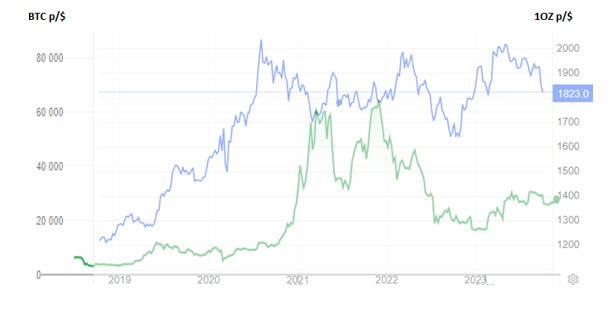 The table above depicts a comparison between then 'Purchasing Power Parity' between that of BTC, relative to the Dollar price of a Troy Ounce of Gold. One can see that they are on par, with the yellow metal, coming out, consistently as the more golden 'asset'.
The crux of the matter, well as I see it, there is no certainty with cryptocurrency to give its novel ideologue of changing traditional banking/monetary/consumer spending channels.
There is no faith-based store of value associated with digital, intangible goods, and even though it is often compared to the likes of commodities, it will never come close to the power and allure of holding gold.

During the period of growing crypto popularity in the mid-2010s, industry job postings saw an overall upward trend. However, much like the prices of cryptocurrencies themselves, this trend was not without volatility.
As BTC fluctuated, so did the blockchain startups, the NFT scammers and the cryptofakery, with everyone jumping on the band-wagon, artificially inflating the 'demand projected revenue' of these digital 'assets' with the most dramatic surge taking place in 2021 and early 2022, until it inevitably, went 'pop'.
The crypto market till now has no doubt positively responded to the global finance uncertainty and is still standing strong amid tightening credit situations with shaky bond market volatility, and inevitable infinite resource of gold, and will continue to grow as it is still in its infancy and we can only speculate for now how it will metamorphosise into maturity.
Crypto cannot sail alone, for a balanced atmosphere all other financial assets have to follow the same sentiments given by venture capitalists and wealth profesionados; "diversification, diversification, diversification, and physical gold, obviously", as J.P. Morgan stated in his testimony before Congress in 1912, "Gold is money. Everything else is credit."
As the South African Gold Coin Exchange, we believe that one should own cryptocurrency, so much so that we accept most forms of crypto in exchange for real money. Real, physical gold, silver and platinum, in the palm of your hand with state-of-the-art vault security services, you can be reassured that you will have the additional peace of mind, with us guiding you every step of the way which cannot be easier with our partnership with Pundi Merchant Vendor Services specialising in crypto-based payment methods.